I have seen so may rave reviews for
EdenFantasys
that I really wanted to work with them on some reviews! I emailed them and will now be working on some posts and will review the items that I get to purchase too. This is very exciting, I want to review so many items that this is really going to be a lot of fun.
These is the item that I would love to buy first.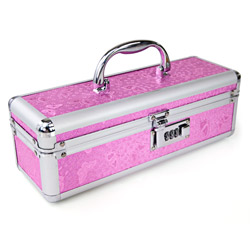 This is the
lockable sex toy case in Pink,
I love this color! I think this is an absolute necessity, me and Luv travel a lot and we have a few things that we really don't want to show the rest of the world so being able to store them in here and lock it will be really great. We can then add it to the rest of our luggage and not worry about any one seeing anything that they shouldn't be seeing right?
I can't wait to see it in person, and as soon as I have it in my hands I will review it for all of you and will make sure to include pictures. I am really curious about the size so together we can see how it is and how much fun stuff will fit.
If you would like to see this adorable case for yourself visit EdenFantasys today!
Disclosure: I will receive a gift card in exchange for this post, however all opinions are my own.